Unlock Your Potential & Drive Your Career Forward
Date/Time
Date(s) - Thursday, 13th June 2019
18:30 - 21:00
Location
Eversheds Sutherland, Kett House, Station Road, Cambridge, CB1 2JY
Categories
Curious about where life could take you? Feeling unfulfilled, unhappy or unsure about your trajectory? Do you simply want a change but you are unsure of what to do next or how to make it happen?
Although still relevant in certain sectors, the concept of working "9 till 5" is slowly becoming ancient history. The digital transformation era provides new opportunities for each one of us to reinvent ourselves and take more control over our destiny.
The aim of the workshop is to challenge you to think about your "career" differently. It is time to let go of old-fashioned thinking that might be subconsciously slowing you down. Is there such a thing as a "career path/career ladder"? "What are the barriers that you believe exist between yourself and your dream job?". More importantly, how much are you prepared to pay to get the career that you want?
Throughout this workshop, you will be introduced to a framework that will provide you with the tools that you need to start building a plan to unlock your potential and your career:
Self-discovery – Who are you? What makes you unique? What do you bring to the table?
Diversity – Creative ways to build up experience in various fields and develop skills that are necessary to your next move
Leadership – Use the concept of "leading without authority" to get yourself noticed and get the result you want from your peers AND your managers
Fun – How to bring the "work hard, play hard" philosophy when juggling a busy and demanding career
Some says that the "World is your oyster". At the end of this workshop, our speaker Naily Makangu hopes to convince you to join her philosophy to "turn your world into your personal playground".
---
Naily Makangu
Consultant | Project Manager | Speaker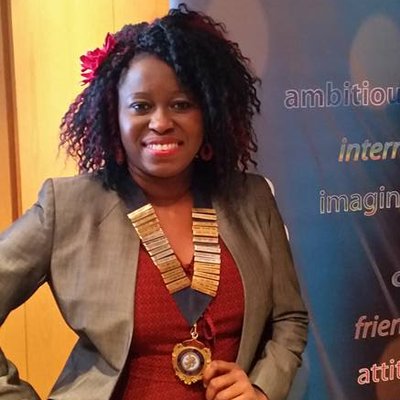 Starting as a Software Engineer at Siemens Industry Software, Naily Makangu carved her own path into Project Management and Leadership and is an award-winning trainer.
Naily's strengths lie in leading and motivating distributed, cross-functional teams and stakeholders in order to successfully deliver projects. She has a proven track record of recovering and redressing troubled projects and organisations.
With a passion and commitment to volunteering, Naily was elected as the President of Junior Chamber International (JCI) Cambridge Chapter in 2017.  Her versatility and deep understanding of leadership challenges allowed Naily to take the Chapter through rough patches and on to success, by encouraging innovative ideas, transforming and empowering her team.  Thanks to her positivity and 'can do' attitude, JCI Cambridge won several awards for the first time in over 15 years, one of them being the "Best Local Growth & Development Program" in Europe.
In 2017, Naily won awards for "Best Trainer" and "Most Outstanding Leader" of JCI UK and she is a trainer for their flagship academy "Leadership in Action Programme" (LEAP).
Naily was nominated for Cofinitive's #OnetoWatch People's category in 2019. If you want to know more, please listen to her radio interview – Cambridge 105.
Twitter @NailyMak
Where
Eversheds Sutherland, Kett House, Station Road, Cambridge, CB1 2JY
Cambridge - Station Road

United Kingdom
CB1 2JY